She got married and moved to the US when she was at the peak of her career and chose to focus on her family all these years. But now that her kids are all settled, Meenakshi Seshadri is looking to make a comeback with scripts and roles that do justice to her acting prowess. In an exclusive interview with ETimes, the actress opens up on what she's been up to, her experiences in the industry, and plans of returning to showbiz. Excerpts:
It's been 27 years since you quit the film industry. What have you been up to?
I got married in 1995 and moved to Dallas, USA where I now live with my two children. My daughter is working and my son is going to join college in September. I have friends here, I spend time with them. In America, unlike in India, we have to do our household chores ourselves, so I keep very busy with the home and garden. We are like any other normal family. We have our ups and downs, we laugh and cry together.
Though your first film was 'Painter Babu' (1983), you became the Meenakshi Seshadri after the release of Hero (1983)…
It makes me feel so ancient to think that the film released 38 years ago. How time flies! I feel it was just yesterday that we were shooting in Ooty, Kudremukh, and Mumbai. I was working in Manoj Kumar's 'Painter Babu' and Subhash Ghai was just finishing 'Vidhata' (1982) and wanted to make a film with a new girl and boy. He knew that Manojji had a good eye for casting so he was keen on seeing my rushes from 'Painter Babu' to decide if I would fit the part. When he saw the rushes, he saw me in the snow of Shimla, wearing shorts and a knotted shirt, dancing away and he said, 'This girl is too modern, too glamourous. I want a simple girl who does classical dance. And it's a romance; I don't know if this girl will suit that'.
I was, of course, ecstatic to work with Subhash Ghai. I had seen his earlier movies and I remember going to his editing room where he was editing a song of 'Vidhata' "Aa Aa Ee Ee Uu" with Padmini Kolhapure. I was like, 'Wow, this is so glamourous', and wondered if my role in 'Hero' would be like that.
First day of shoot can be nerve-wracking for any young actor. How was your first day of shoot for 'Hero'?
We had the mahurat at Mehboob Studio and Jackie (Shroff) was present there in jeans and a knotted shirt, looking very Western, and like a model. I was in a salwar kameez with a big round bindi, looking very traditional and desi. There were a lot of comments like, 'How will these two suit each other?' and 'Is this a good match', but Subhashji knew how to bring out the best in both of us.
Not many people know that your real name is Shashikala and Manoj Kumar was instrumental in giving you your screen name…
In South Indian families, we have a tradition that grandfathers, aunts, and parents all give names to the child. The year I was born, my grandfather had gone to the Meenakshi temple in Madurai, and had decided that if a girl was born in our family, he would name her Meenakshi. But I was christened Sasikala by my mother to match my sister's name, Nirmala, and at home, I was called Cherry. Nobody called me Sasikala, actually. When Subhashji met me I was already Meenakshi, but when Manojji met me I was Sasikala. I had just won the Miss India beauty contest and he said that since there already was a very popular and successful actress called Shashikala, who was still acting in movies, I choose some other name for myself. Manojji found my grandfather's choice of name to be a beautiful one… the name of a devi. Subhashji cast me and later on worked with other actresses whose name started with M, so people started making news items about that.
Despite working during the '80s and '90s, when commercial cinema barely gave heroines meaty roles, you managed to carve up an oeuvre of strong characters. Films like 'Swati' and 'Damini' were centered around your performances…
In the '80s, actors' first films were always romantic stories. But even those were few, the majority of the movies were action movies, multistarrers, hero-oriented stories. So unless you were very lucky or very successful, it was hard to get movies where heroines were showcased in a prominent way. I did work with the best of producers, directors and actors but that was not enough to propel my career forward. It would have been a big achievement if I had done more women-oriented films. I did work in some noteworthy films but they did not perform well at the box office. There were a few challenging ones, like 'Awara Baap' with Rajesh Khanna, where I played a double role. It was a unique experience for me and I thoroughly enjoyed it. The other movie which I must mention was 'Swati'. It was a feminist story where the heroine fights for the rights of women and their position in society. I felt it was an important topic but the era was so focussed on making movies like 'Jala Ke Raakh Kar Dunga' and 'Zinda Gaad Dunga' that movies like 'Swati' did not get noticed. I loved doing comedy but I didn't get many opportunities. I enjoyed my roles in 'Aag Se Khelenge', 'Ghar Ho toh Aisa', and 'Shahenshaah' where I managed to get to do such scenes. Most people think of Meenakshi in dramatic or glamorous roles but I really enjoyed comedy.
Damini was probably the most important film of your career…
In the '90s, I did some of my more memorable movies. I worked in 'Ghar Ho Toh Aisa', 'Ghayal', 'Ghatak' and 'Damini'. I also worked in two South Indian movies that were very unique and powerful–Tamil movie called 'Duet' and Telugu film called 'Aapat Bandhavudu', for which I won the Andhra Pradesh State Award for Best Actress. But the movie that stood out is 'Damini'. It was an author-backed role and I was fortunate enough to have a unit that was full of talented people. The crew was fantastic and leading them all was director Rajkumar Santoshi who was an awesome filmmaker. I had already worked with him in 'Ghayal' and was going to work with him in 'Ghatak' later on. 'Damini' spoke about the conscience of a human being which is the highest court of justice and it really made people sit up and take notice because the character was believable–an average middle-class girl who believed strongly in devi maa, and in being honest and standing up for the right thing. People identified a lot with those traits and the powerful scenes that I got to perform. I was nominated for the Filmfare and National Awards but did not win them (smiles).
It is believed that before the release of 'Damini', there was skepticism within the film industry that a film centered around a female character would not work at the box office…
No one had made such a film for a long time. There were good films with other actresses but 'Damini' was a drama, a romance, and full of passion. It had a filmmaking style from the past eras of the '50s and '60s. I think the producers and director believed in the story. I don't think there was a fear of how the film would do because whoever heard the story and saw rushes of the film, was very impressed. We didn't know how it would fare after release, but it went on to become a big hit and people started identifying me with Damini.
You quit your career in movies while you were still at the top. Did you ever consider not leaving it all behind?
When I decided I wanted to get married I knew it would be hard for me to continue acting, especially when I met my husband, who lived in America. I thought about working in India with marriage in America, and whether it would work out. But I decided that I could not do both. I had to finish many of my movies after getting married and I had a lot of offers but I had to decline. I think many movie makers said, 'Oh! She never wants to act again'. You know how news spreads, but that was not true. I was just taking a break. It's been a long break, but I am happy, I have no complaints. I wanted to be there for my family, my children. My family and friends feel I can still make a comeback. I don't have an answer to that but I have spoken to filmmakers and they said if I was really interested, there are numerous opportunities. I am ready and raring to go.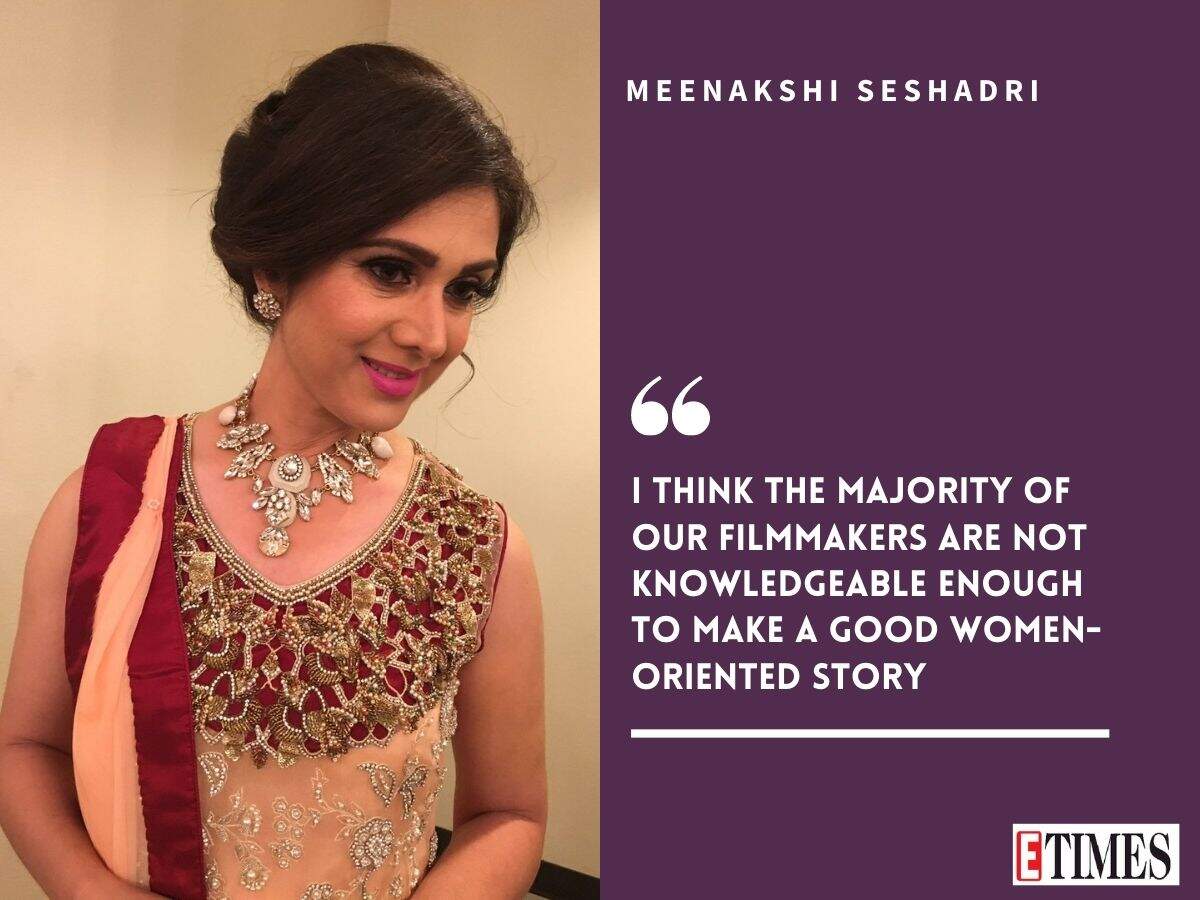 Do you miss working in films?
I have definitely missed creative and artistic work, and the experience of working with talented and creative people. I have kept up with my creativity by working on my dance. I practice regularly, and I have also taught dance here in the US. Right now I am going to have an empty nest at home. My daughter has left home to pursue her job and my son is going to go to college.
So, I don't have the responsibility of looking after them anymore. It is definitely a good time for me to explore opportunities. I have sent out the word that I am interested and there have been offers in the last couple of years, but with the pandemic in between, so many of the plans didn't work out. I am looking forward to the honour of being part of the Indian film industry again.
Would you be open to working on the digital platforms for your comeback?
During the '80s and '90s, I had my tryst with Bollywood's heroine roles. Today, I'm a mature and experienced person who is open to experimentation, and trying alternate avenues of filmmaking and film production. That includes web series and digital. I am open to everything, provided it suits me, my personality, my likes, and dislikes.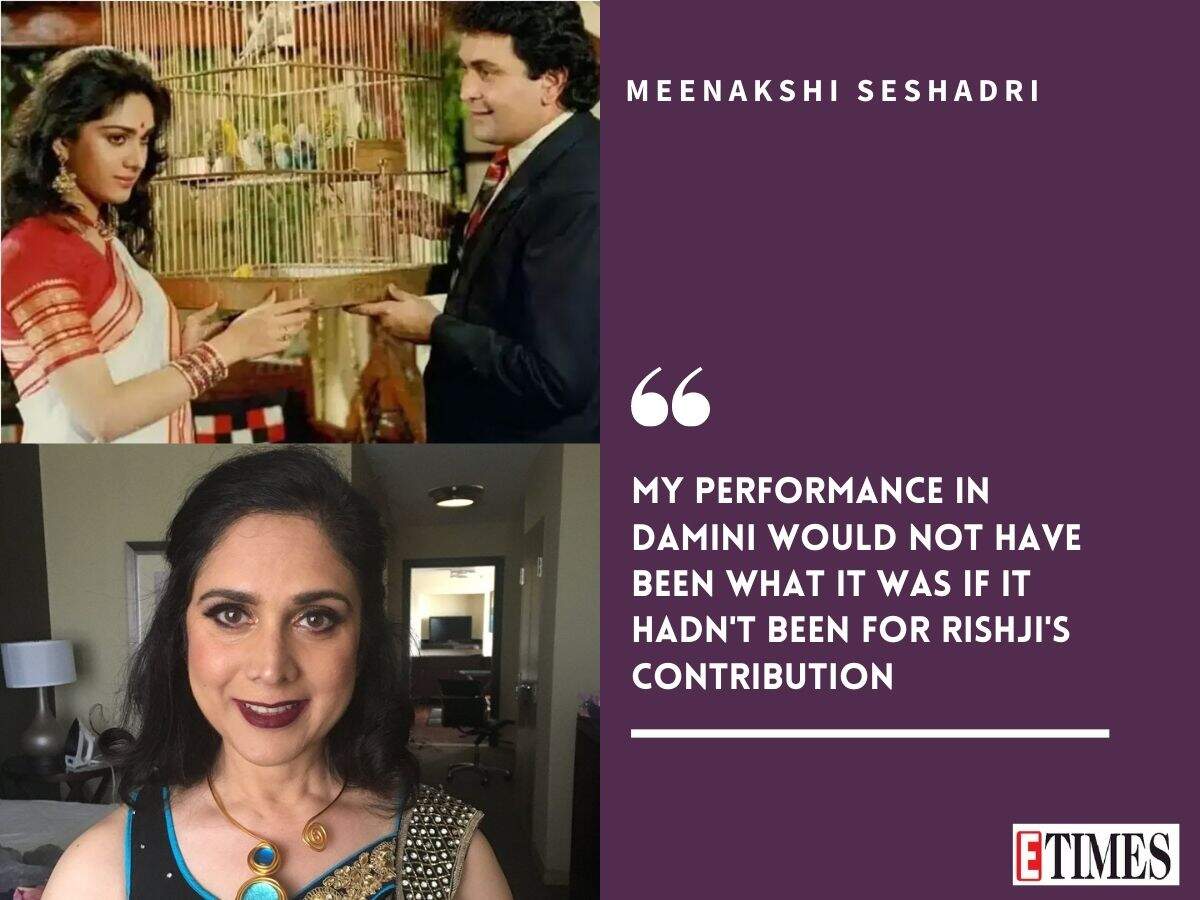 You worked with everyone–from Rajesh Khanna to Amitabh Bachchan–but you've always maintained that the late Rishi Kapoor was your favourite co-star. What was so special about working with him?
I have done four-five films with Rishi Kapoor. He was a fantastic actor, so effortless, fluid, and spontaneous! Nothing that he did seemed forced. He could carry off any role and he was known as the King of Romance, the king of working with newcomers. 'Om Shanti Om' and 'Bachna Ae Haseeno' from 'Karz' are my favourite songs. I think working with him in 'Damini', compared to the other films I worked with him in, was more challenging because we had more dramatic scenes together. But he supported me like the wonderful co-actor he was. My performance would not have been what it was if it hadn't been for his contribution.
It was your visit to Rishi Kapoor's house and his big reveal on Twitter that put the spotlight back on you after so many years…
I would try to meet Rishiji and Neetuji every time I came to Mumbai. They were so sweet and nice to me. To be honest, there aren't many people I have been in touch with in Mumbai, but Rishiji was the one I stayed in contact with.
Those who know you well and have worked with you, have always claimed that you're also a good singer. Is it true?
I can't claim to be a good singer, but I have learned classical music, both North Indian and South Indian, for many years. I have practiced very hard and used to sing very well but I have not done my riyaz for a long time now. If I do want to sing, I will have to restart. You cannot be close to perfection without practice.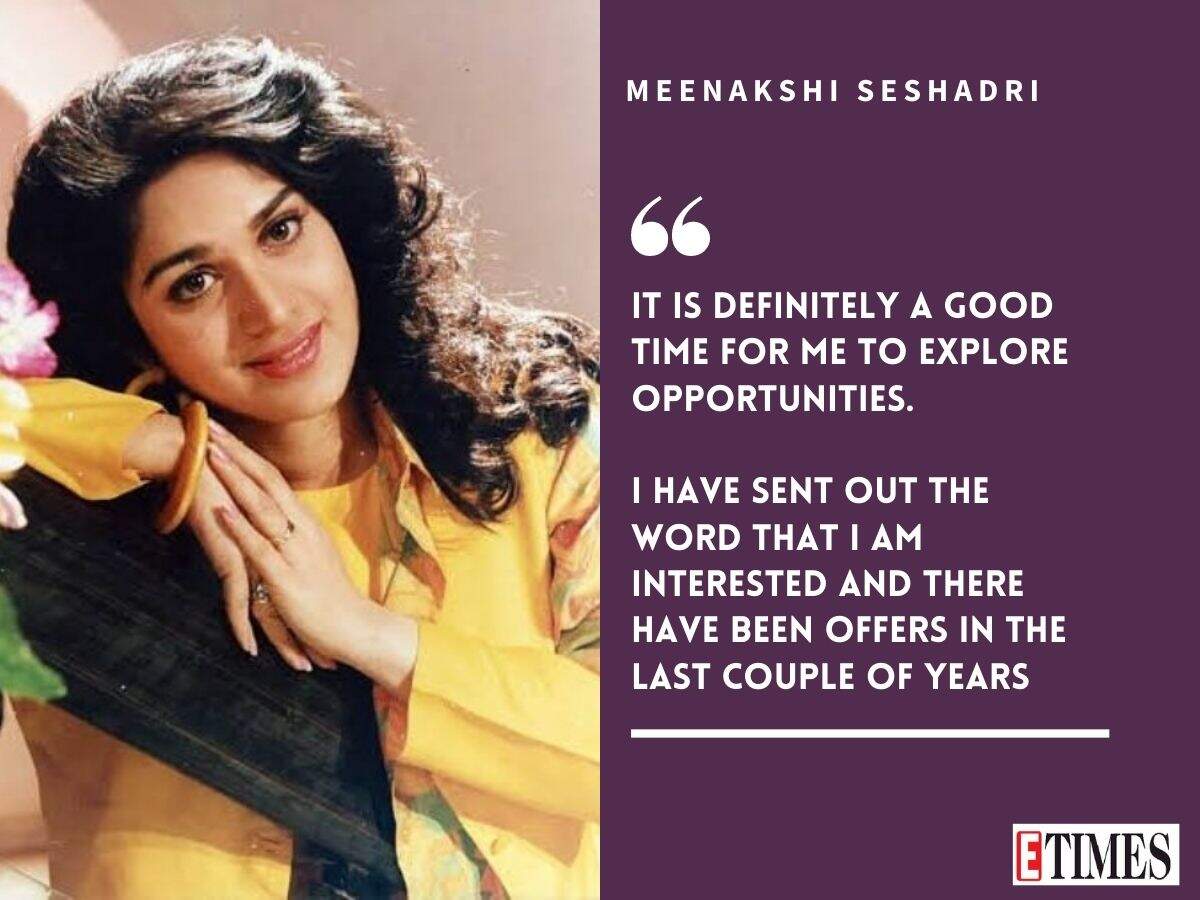 Your contemporaries Madhuri Dixit, Shabana Azmi, Shilpa Shetty have all found a plethora of opportunities in modern cinema. Do you feel now is the time when young filmmakers and writers are creating content with actors like you in mind?
I don't know about these actresses, I don't know what is happening in their professional careers, but as for me, I am like a newcomer now. I am starting after a long gap–a sabbatical of 27 years. It will be interesting to see what kind of roles I'll be offered and what I will accept. I think current filmmakers will want to know what I am like nowadays, what my artistic expression is, before anybody decides to write a script for me.
Not too long ago, you fell victim to a death hoax. How did you react to such news?
I found out about that and a lot of fans reached out to find out whether it was true or not. I don't know how that rumour came about though.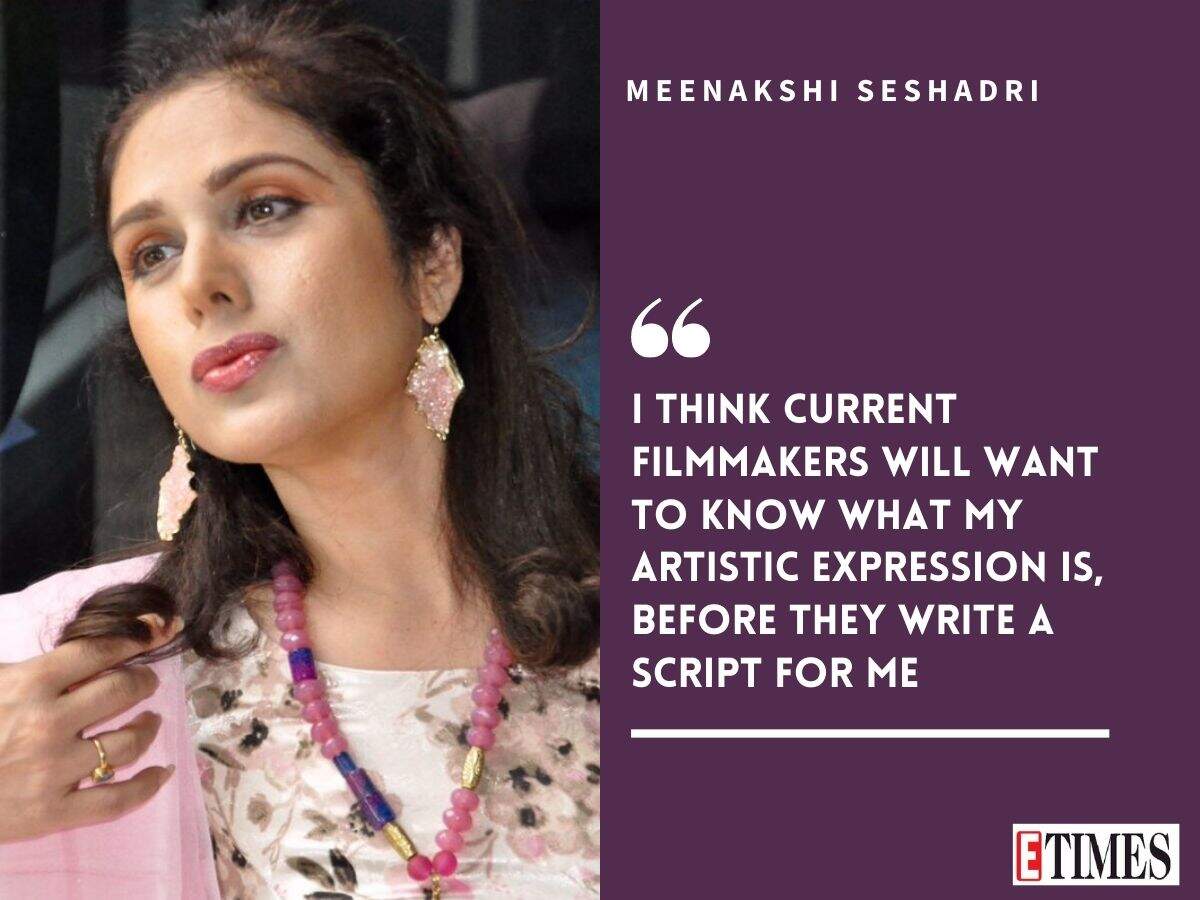 Has there ever been a role that you'd have loved to play?
I have heard people say that they want to do a role like 'Damini' (laughs). I think there was a movie with Nargis ji 'Raat Aur Din' where she played the role of a person who has a mental illness. She changed her personality which was very interesting. The other movie she made, which anybody would die for, is 'Mother India'. It was an awesome movie! Of course, it will be hard to meet her standard, but that is something I would really love to do.
Many years ago, you had worked in a Tamil movie, which was the remake of 'Mr India'.
Yes, I worked in the Tamil adaptation of 'Mr India' but a lot of changes were made in the story and script. It wasn't exactly like the original.
Were there any comparisons between Sridevi and you?
I don't know how many people were trying to make comparisons. I really enjoyed the role because it was full of comedy. It was interesting for me as an actress to do that role.
Did it upset you when, back in the day, people used to call you the 'ice maiden'?
A journalist gave me the title of 'Ice Maiden'. It happened when I was shooting for 'Hero' in Ooty. It was our first outdoor schedule, it was very cold and I had to shoot for the song 'Neendiya se jaagi bahar'. I had to sit under a cold waterfall for some of the shots, but I was sick, had a fever and a bad throat. I requested Subhashji to wait for a couple of days before we did that shoot. Meanwhile, the press had come to cover the shoot and one of the press members saw me sitting on my mother's lap. I was feeling so sick that I wanted to have my mother with me. So, they said that since she doesn't talk to anybody, she is an 'ice maiden'. Later on, the name was used for me because I did not have link-ups, boyfriends, or affairs.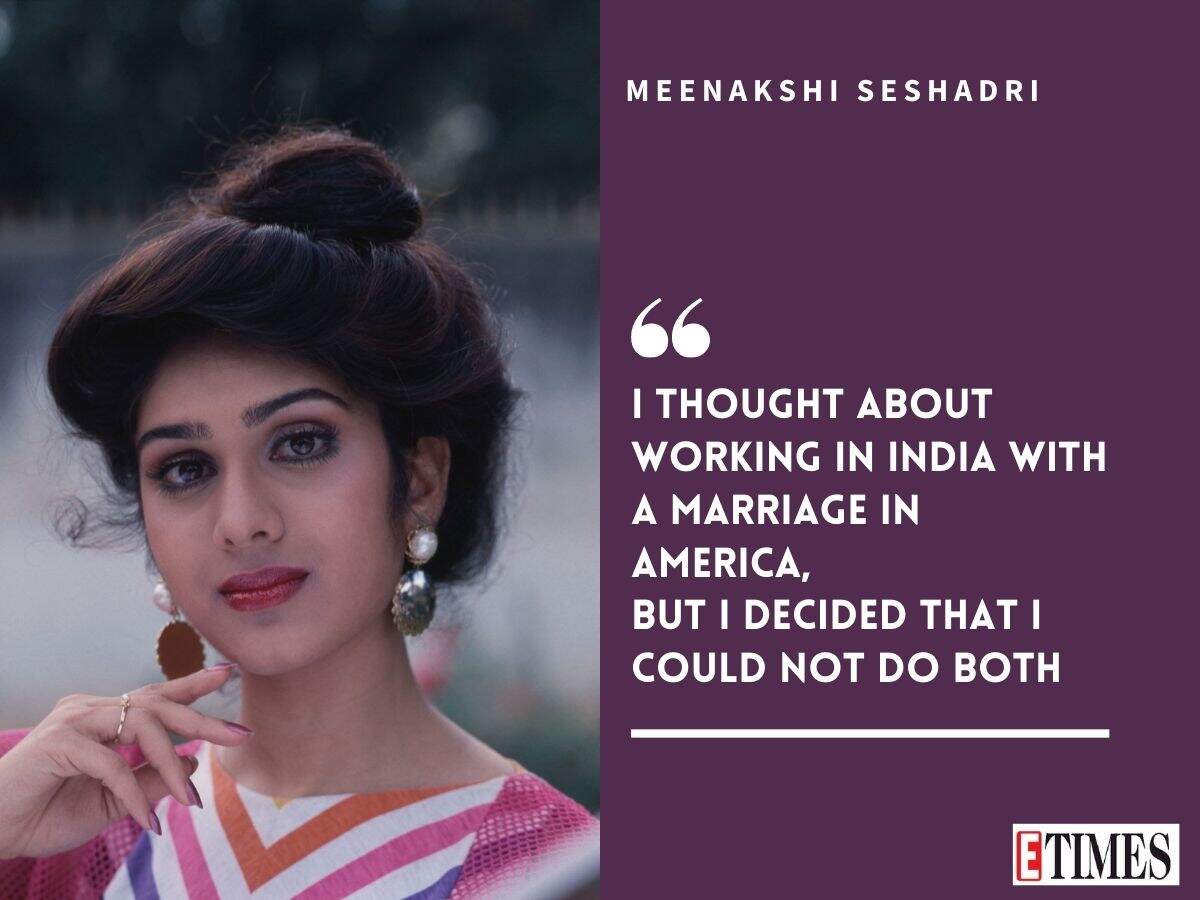 Discussions on the pay disparity between male and female actors, has been going on since before you quit the industry. Little has changed over the years…
It's true that heroines are underpaid in comparison to male actors. Even the top actresses have had to face that disparity. More successful and popular are paid more, but that's about it. I hope it will not be status quo though. I hope that things become equal and standard. But any change takes time; we may not see it in the next few years, but I am hoping that the next generation will see a difference.
Despite all the progress in society, do you feel there are still not enough stories with women protagonists?
Whenever women directors make a movie, they have given women roles that are meaningful and meaty. I think the majority of our filmmakers are not knowledgeable enough to make a good women-oriented story. Maybe there are not enough stories being written, perhaps because writers think that nobody will purchase those stories. Maybe the directors feel they may not be able to make good movies with heroines. So it's a vicious circle and then you need to have actresses that inspire movies or you need to cast talented newcomers. In the last 10 years, maybe there have been five films where actresses have inspired filmmakers. I think the impetus has to come from there. The quality of actors will have to provoke and prod the film industry to wake up.